Introducing: Church Bells
The free parish and diocesan communication platform to reach your flock like never before
Sunsetting Church Bells
In the heart of the pandemic, it was clear that the Church needed an emergency line of communication beyond their usual operations. Church Bells set out to solve just that. As we continue to adapt to our post-pandemic world, it is an answered prayer to see attendance and communications return to less of a "state of emergency" and more of a "new normal."

With that, we have decided to sunset support for Church Bells in favor of more faith content and devotional resources. We are grateful to all of those who were able to benefit from the Church Bells initiative, and for your prayers!
In the wake of COVID-19, parish involvement has become a hybrid of physical and virtual participation. Church Bells lets you meet people where they are in a refreshing new way through the Catholify app that couldn't be any simpler for parishes and parishioners—all completely free!
Watch our 4-minute intro video and get started in 3 easy steps:
Catholify is a free app to connect the Catholic Church. Claiming your public page on behalf of your parish or diocese is painless and gives you the ability to notify all of your parishioners instantly.
In this digital age, users are more guarded about handing out their contact info to be placed on mailing lists, but are quick to try something free with no commitment. With Catholify, instead of asking for parishioners' info, you're giving them the best free Catholic app ever made!
When you have something important to say, simply make a new post and all of your parishioners will be instantly notified. 
Get started today by downloading Catholify and visiting your parish / diocese page from the inbox, or let us know where we can send detailed instructions to further assist you: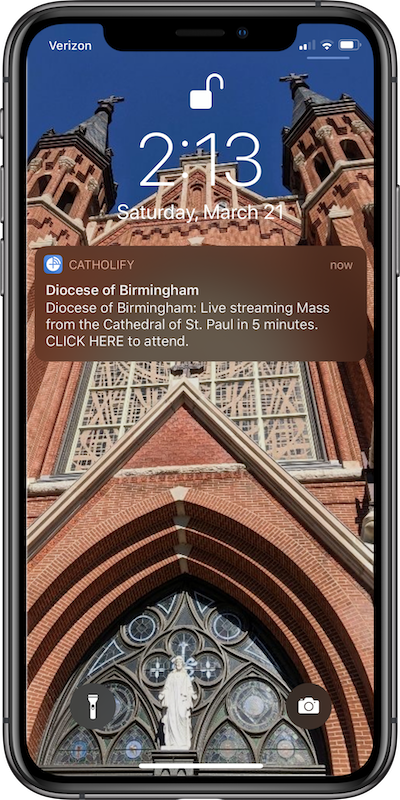 We get it. There are countless ways to communicate, so why use Catholify? Now more than ever the Church needs a space uniquely for Her—one where we are encouraged to pray, drawn into community, and found in the Sacraments.
Because it is our mission to serve the Church, we are here to respond to Her needs. Our COVID-19 prayer map is one example of this: to connect us in prayer when it matters most.
We are a donor-driven nonprofit ministry serving the Church through free technology. Here are just a few of the amazing features available in the app:
Help us bring the Church to future generations through technology.